News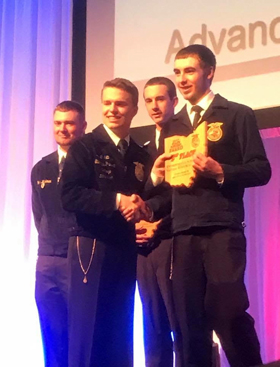 Davis to compete at National FFA Convention
5/18/2017
North Union FFA member Austin Davis earned Ohio's top honor and named finalist in two other areas at the recent state FFA convention in Columbus.

Austin the son of Mike and Tammy Davis was named Star American placement winner of over Ohio. He had SAE projects of soybean production and placement at Davis Farm and Drainage. Austin also was named a finalist for Ohio's Star in agricultural placement and earned state runner-up honors for his proficiency award in environmental and natural resource management proficiency area. The state FFA award program is designed to award FFA members with a chance to gain recognition of their hard work and dedication for the Supervised Agricultural Experience projects.

Austin will now forward his application to the National FFA were they will be evaluated against state winners from across the country to determine the four finalists to be interviewed at the National FFA Convention in Indianapolis, Indiana.