News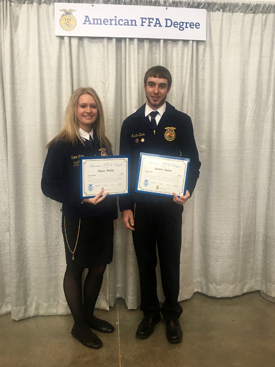 North Union FFA members receive National FFA's Highest Honor
11/16/2017
Austin Davis and Claire Wolfe received their American FFA Degree, the highest degree the FFA offers, at the 90th National FFA convention in Indianapolis, IN. Of the over, 650,000 FFA members nationwide less than 3% earned the American FFA Degree.

In order to receive the American FFA Degree members must have been enrolled in an agriculture class for at least two full years, been an active FFA member at the local and state level, maintain quality grades throughout their high school experience, completed at least 50 hours of community service and developed an outstanding Supervised Agriculture Experience or SAE with scope, knowledge, and productively invested over $7,500 in that SAE or a combination of hours and money invested.

Austin Davis, the son of Mike and Tammy Davis, is currently attending the OSU ATI in Wooster Ohio. Austin's FFA career was highlighted by being name Ohio's Star American winner in Agricultural placement in 2017 and Ohio State FFA runner up in Environmental and Natural Resource Proficiency. During his FFA career, Austin was a part of a state and national winning agronomy team and district placing tractor trouble shooting team. Austin's supervised agricultural experience projects ranged from soybean and corn production to working at Davis Farm and Drainage.

Claire Wolfe, is the daughter of Mark and Tricia Wolfe, is currently attending the University of Dayton majoring in Biology. During her FFA career, Claire was a part of a state and national winning agronomy team. Claire's supervised agricultural experience projects were raising dairy feeders and helping with the family farms' hay production and seed business.

The National FFA Organization is a national youth organization of 629,367 students by developing their potential for premier leadership, personal growth, and career success through agriculture education.