News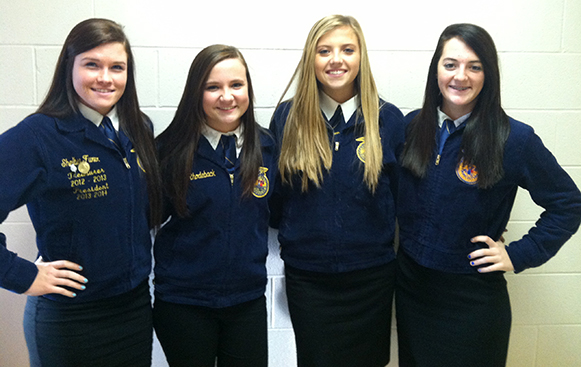 North Union FFA Food Science Team Captures District Crown
Jordyn Rhodeback, Tricia Stevens, Sami Dinsmoor and Carli Wilson have all competed recently in the District 6 and State Food Science and Technology Career Development Event.

The CDE taught the members about every aspect of processing and preparing food, from the time it leaves the farm until the time it reaches the consumers table. During competition at sub-districts and districts, the team had to prove their knowledge in four different areas: general knowledge test, taste testing, identifying best production and management practices, and handling a customer complaint.

The team won first place in sub-district. They then finished first in the District Six elimination contest and advanced to the state level where they placed 14th.

The National FFA Organization (also known as Future Farmers of America) envisions a future in which all agricultural education students will discover their passion in life and build on that insight to chart the course for their educations, career and personal future.

FFA makes a positive difference in the lives of students by developing their potential for premier leadership, personal growth and career success through agricultural education.

Agricultural Education prepares students for successful careers and a lifetime of informed choices in the global agriculture, food, fiber and natural resources systems.